The United Nations Office for Project Services (UNOPS)
This article was published more than two years ago. Some information may no longer be accurate.
South Sudan is dying while waiting for peace.
While much of our attention is focused on those fleeing violence and persecution in the Middle East, the ongoing refugee crisis in South Sudan is largely forgotten.
More than six million people are in urgent need of humanitarian assistance, while 1.66 million South Sudanese are internally displaced. A peace agreement signed in 2015 remains unimplemented.  
In the north, tens of thousands of people from neighbouring Sudan continue to flee fighting between the Sudanese Armed Forces and the Sudan People's Liberation Army-North.

UNOPS has worked with national authorities since 2005, building schools, health clinics and roads. The country needs additional infrastructure—more roads, functioning ports, more schools and hospitals, but as long as the peace process remains stalled and the fighting continues, little can be done.
In 2014, 28-year-old Zainab Bashir crossed the South Sudanese border on foot. Her children were by her side. 

Shortly afterwards, they arrived in Ajuong Thok Refugee Camp – home to more than 33,000 Sudanese refugees. Today the family lives in a mud-brick shelter and a tarpaulin-covered area, where her children spent much of their time.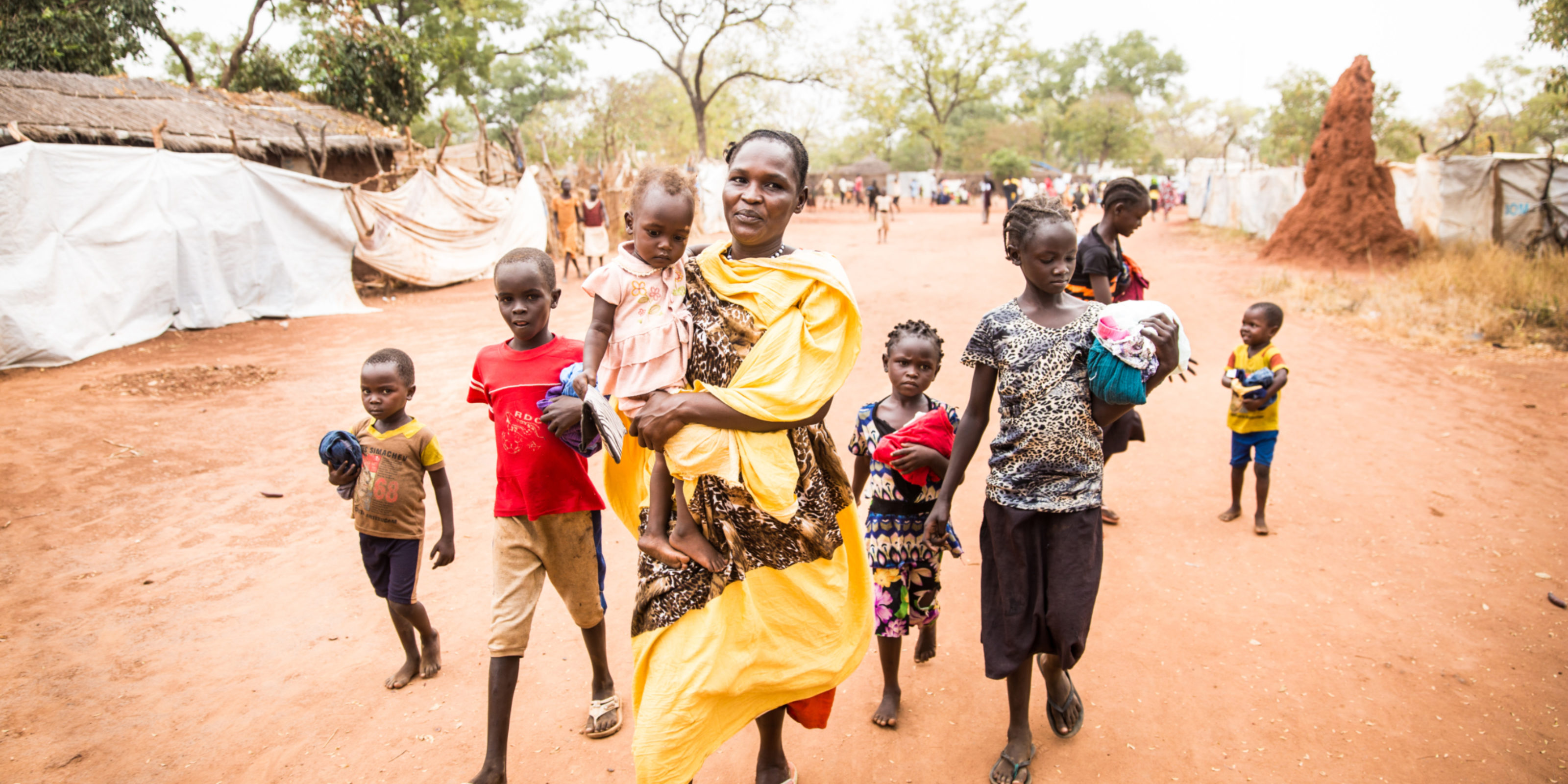 I was pregnant when I came down from the mountains. I came from Al-Nuba with my seven children, four girls and three boys. The war made us come here. ​
---
Shelter

Shelter
An estimated 90% of the camps new arrivals are women and children. Many men stay behind across the border to fight or protect the family home. One-third of the total refugee population in South Sudan are children of school-going age. Zainab gave birth to her youngest, a daughter named Sihsa, in Ajuong Thok.
I made the bricks of this house; I made breakfast and invited some people to eat and they helped me use the bricks to build the house. They helped me quickly because I was pregnant.
Women face hardships here. We have no husbands to help us repair our houses. In the rainy seasons water floods the kitchen through the roof. My husband and I were separated because of the war. People are tired, they are running all the time. They have no stability. ​​​
---
Clothing
Clothing
Understandably, life is tough. But on the rare occasions when goods are handed out, smiles break out across the family. Not all of the items handed out at the clothing drive are appropriate for the scorching heat, nor South Sudan's six-month-long rainy season. Nonetheless, new clothes bring a welcome change from the routines of camp life.
---
Food and water

Zainab prepares bread and cornmeal – main staples in the diet of many residents.
Food and water
3.9 million people – nearly one in every three people in South Sudan – are severely food insecure and 3.6 million are  considered to be 'food stressed.' Zainab's family, like the more than 10,000 families in the camp, subsist on food handouts. Last year, due to cuts in international funding, food rations decreased by 30% in Ajuong Thok. 

Twelve-year-old Muada regularly fetches water for the family from one of the camp's 315 water points. Dinner preparations begin each day before night falls, as the family has no access to electricity.
​The children like to bring water home from the tap when they return from school. They then take a bath and continue to study, while I use the water to prepare our food.​​
---
A wish for peace
Despite the challenges, Zainab remains hopeful that one day she will return. 
​I wish that my children grow up to become doctors, engineers or teachers. I want them to be responsible and accomplish something in their lives. ​​​​
I pray to God to bring peace to my region so that my people can return to their homelands and our children can settle down. ​
Who helps Zainab?
Ajuong Thok Refugee Camp is managed by UNHCR
Shelter/camp management: UNHCR, Danish Refugee Council
Nutrition: Africa Humanitarian Action
Food: World Food Programme, Samaritan's Purse
Education: Lutheran World Federation
Livelihoods: Action Africa Help International, International Rescue Committee
Clothing Drive: Church of Latter Day Saints
Child-friendly spaces and learning programmes: UNICEF, Lutheran World Federation
Roads and schools infrastructure: UNOPS
Supporting partners: Action Africa Help; Africa Humanitarian Action; CARE, Intergovernmental Authority on Development (IGAD); International Rescue Committee; The Common Humanitarian Fund; The Lutheran World Federation; UNAIDS; UNICEF; and the Governments of: Canada; Denmark; France; Germany; Italy; Japan; the Netherlands; Korea; Spain; Switzerland; the United States of America, the Vatican City State; and the European Union.
---
Explore further