The United Nations Office for Project Services (UNOPS)

This article was published more than two years ago. Some information may no longer be accurate.
Around the world, refugees leave their homes, fleeing conflict or persecution – seeking shelter, safety and security. Kamal Hossen is one of them.
Kamal and his family are among the thousands of refugees who have fled Myanmar since August 2017, following violent conflict in the country. Kamal, his mother Sona Meher, his wife Sofera Befum, and their daughter Nur Habiba and son Omur Faruk fled their home in Kyein Chaung – in the northern part of Myanmar's Maungdaw District – seeking safety in Cox's Bazar in Bangladesh. 

He lost at least 10 members of his family to the violence.
As they wait for peace to return to their homes, follow a day in the lives of Kamal and his family as they try to develop a sense of normalcy in Cox's Bazar – alongside more than 900,000* Rohingya refugees.
COVID-19 - April 2020: With additional funding from the United Kingdom's Department for International Development, implementing partners in Cox's Bazar are procuring medical supplies and equipment needed for COVID-19 testing, and establishing temporary treatment and isolation centres.
Published on 1 August 2019
Play
---
Kamal's wife Sofera and mother Sona play with daughter Nur in the family's shelter. "At first, we didn't have anywhere to stay," explains Kamal. "And no money to buy bamboo and plastic tents." After receiving the material needed, he constructed this shelter for his family. "Now, we can sleep [...] safely," he says.

---
Work
Kamal helps to build a cistern on top of a hill in his camp, as part of a cash-for-work programme. "I could only bring 100,000 kyats [around $66]* with me," says Kamal. "I left everything else – my shop, my land, all of my property – behind."
---
Volunteer
Kamal cooks and serves meals at a hot food distribution centre, where he volunteers.
---
Eat
Kamal waits in line to get food for his family. This is one of the ways he uses the money he earns from a cash-for-work programme.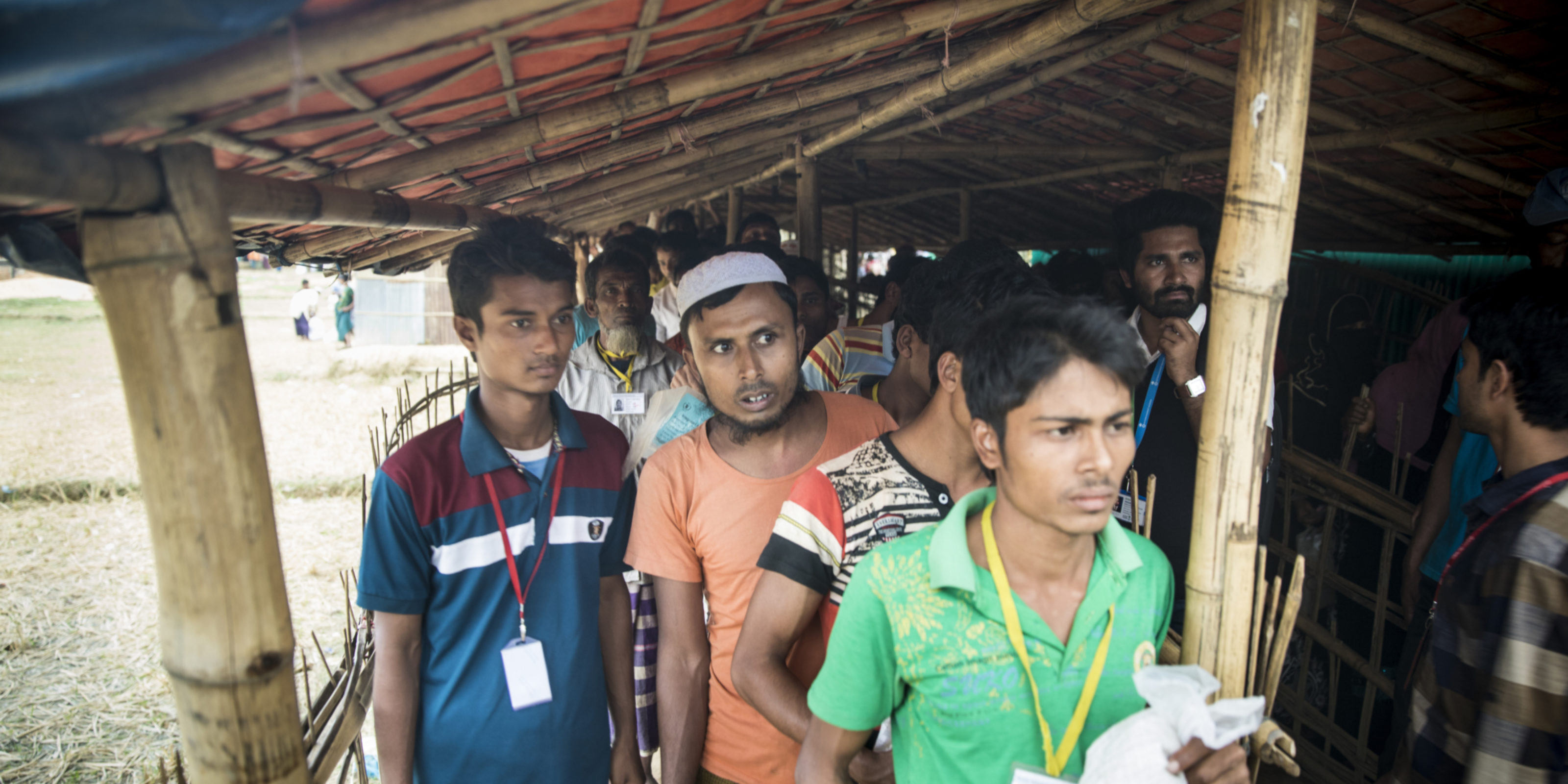 ---
Heal
A health centre in Cox's Bazar saved Sofera's life after she experienced post-delivery complications with the birth of Nur. Here, Kamal and Sofera take Nur for a check-up.
---
Learn
Kamal's son Omur attends school for two to three hours a day. "Now my children can start learning," says Kamal.
---
Pray
Kamal reads the Koran – he has memorized all of it and is considered Hafiz, or Guardian.
---
Dream
Kamal's infant daughter Nur sleeps soundly in a makeshift crib. "We always think about and dream of returning to Myanmar [...] – our home is Myanmar. We only want to spend our lives there," says Kamal.
The United Kingdom's Department for International Development has provided more than £80 million in humanitarian assistance to help Bangladesh's response to the Rohingya refugee crisis, under their £111 million 'Strengthening Humanitarian Preparedness and Response' programme.
As the fund manager for this programme, UNOPS is working closely with 15 implementing partners – including non-governmental organizations and United Nations organizations – that are improving conditions for Rohingya refugees residing in camps in Cox's Bazar, as well as in host communities.
These partners are providing a range of critical assistance including cash-for-work opportunities, shelter, food and water, education, health and nutrition, protection, sanitation and hygiene services. 
UNOPS contracts implementing partners, oversees the quality assurance of the broader programme and provides budgetary, financial monitoring and programmatic monitoring, and evaluation services.
*As of 30 June 2019
---
Explore further